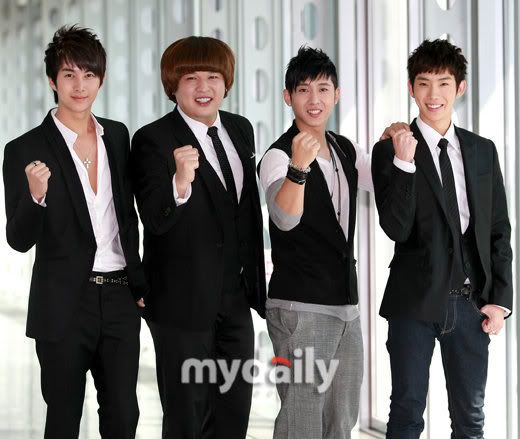 As reported earlier
, theatrical
Brian of Fly to the Sky
, quick-witted
Shindong of Super Junior
, pretty boy
Kim Hyung Joon of SS501
, and variety dark horse
Jokwon of 2AM
, will join forces to host a brand new SBS variety program titled
Find it! Green Gold
to raise environmental awareness. During this 50-minute show, the idols will ride in a bicycle car as a means of transportation whilst searching for areas that pose problems to the environment and create a method to solve them.
During the first episode of their expedition, an interview was held for the 4 idols. All was well until the reporter asked
Jokwon
a question regarding
Jaebeom's
current predicament. Jokwon replied uneasily, "I think he's having a tough time," and progressively turned serious. His reaction took many viewers by surprise as Jokwon's usually lively and energetic face was void of a smile.
Below is the cut that was recently leaked online, check at 1:13.
Cr: jesh50
Of all the people who are hurting from the effects of
Jaebeom's Myspace controversy
, I would suspect that the friend he trained with for 4 years would definitely be one of them. Needless to say, the expression on Jokwon's face during the interview speaks for itself, as he fails to hide his grief and discomfort at the mention of his dear friend's name.
Stay tuned for an update on the full episode, which will air on September 14.
Cr. allkpop