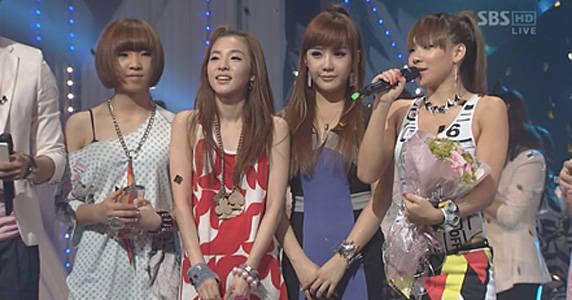 Though G-Dragon may have broken hearts & records on Music Bank this week, his fellow YG family members of 2NE1 also took the spotlight with their hot "Pretty Boy" performance. They aren't stopping there - after very successful promotions for "I Don't Care" and "Pretty Boy", the popular track "In the Club" will be making its live stage debut on September 13 on SBS Inkigayo, a mere two days from now!

2NE1's seen immense popularity with its stylish and catchy tones, and "In the Club" will combine the atmosphere of a club with a musical stage. SBS promises viewers that they won't be able to take their eyes off the impressive performance. Not that I can take my eyes off of 2NE1's performances anyway, but this doesn't dumb down any excitement. Stepping back a bit, I've got to give YG Entertainment a hand for being so good at promotions - from 2NE1's hyped debut earlier this year to the notable (albeit semi negative) interest in G-Dragon's solo debut, those guys are the masters are creating a buzz.

Will we see 2NE1 perform more songs after this & fulfill its promise for a complete mini-album promotion? Let's hope so - if you ask me, "Let's Go Party" doesn't get enough love!
Cr. allkpop