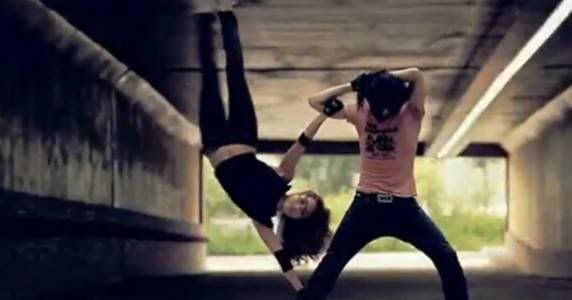 It's a battle of the sexes! For those of you that thought that
Sori
only sang, think again because this hot idol is ready to show off her dance talent. As fans may know, Sori is considered a strong rookie not only because of her vocal skills, but background in ballet, modern dance and breakdancing as well. In fact, this little lady has proven her talent over the years, starring in the musical "The Ballerina Who Loved A B-Boy" a few years back.
Some of you may recognize
Smooz
as Sori's boyfriend from
Astro's "We Will Go" MV
... perhaps this is a teaser to amp up the hype before the start of "Astro" live promotions? I think it's great how we get to see this "couple" together in a happier atmosphere than that of Astro's music video.
From airchairs to airbabies & flares to flips, this definitely a vid to check out:
video source: urasiansourceKpop
And while we're on the topic of breakdance, all you bboys/bgirls probably know that today is the last day of
R-16
, aka Korea's biggest international bboy competition. Sixteen of the world's top crews have gotten together for an epic series of face-offs over the span of four days, and, for those of you in Incheon, it's definitely something worth visiting if you have time. There's a hip hop concert starting in a few hours featuring big names from the homeland to overseas like
Epik High
,
Dumbfoundead
,
Drunken Tiger
and more.
Source. allkpop