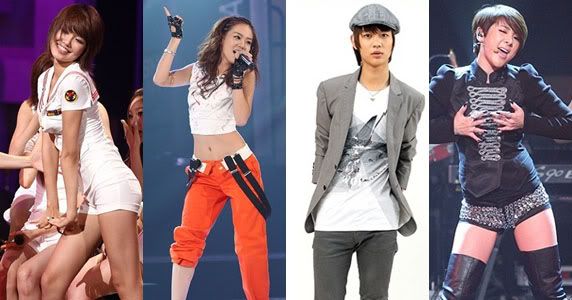 With big time Korean stations
SBS
and
MBC
planning to air special Idol related
Chuseok Specials
,
KBS
follows up with plans to air a special MVP dance competition episode titled
'Shall We Dance?'
as a Chuseok special, featuring a triple crown of actors, singers, and comedians.
The show will feature many big time favorite idols such as
SHINee
's
Minho, Kim Tae Woo, Park Jae Jung, Boom, SNSD
's
Sooyoung, KARA
's
Han Seung Yeon, Jewelry
's
Seo In Young, Kyeon Miri, Kim Shin Young
, and
Park Sohyun
fighting for the title of dancing MVP.
It's also been revealed that dancing queen diva Seo In Young will be shaking it with some 'samba' dancing while Minho will be marching the matador's 'pasodoble'. Sooyoung will be gracefully performing the 'waltz' and the 'Vienna waltz', while pretty girl Seung Yeon will be doing the difficult and stressful 'quick step' line.
Actor turned singer Kyeon Miri will be doing the 'cha cha cha' while both Park Sohyun and Park Jae Jung bust out the rumba. Comedian Kim Shin Young and the suave and cool romantic Kim Tae Woo will each show off their skills in the 'jive'.
Hosted
Lee Seung Gi
and
Baek Ji Young
, 'Shall We Dance' will reveal stars' hidden talents in dance and bring about fun and introduce not-so-common dances to the audience. The 10 stars will duke it out for the title of MVP on October 2nd at 7:10KST.
Source. allkpop