Most of you are probably familiar with the fact that
Yoon Eun Hye
flaunted her artistic skills on the set of
"Coffee Prince"
by painting some of the murals on the walls of the cafe where a lot of the shooting took place... Well, she's at it again but this time it's on the set of her latest drama
"My Fair Lady."
In the drama, there is a scene where
Hye-na
(Yoon Eun Hye's character in "
My Fair Lady
") is looking for a part-time job, and ends up painting the exterior of a kindergarten with
Dong-chan
(protrayed by
Yoon Sang-hyun
). All the painting was actually done by the talented Yoon Eun Hye herself!
Yoon Eun Hye prepared a lot for this scene, and prepared the paints, painted a lot of the base decorations like the butterflies and the trees, and came up with the idea that the children should stamp on their handprints as leaves for the trees.
The mural that she painted for the set of "Coffee Prince" still remains on the wall and remains a popular attraction, and this mural will probably become a popular attraction as well. You guys can check out the mural for yourselves here: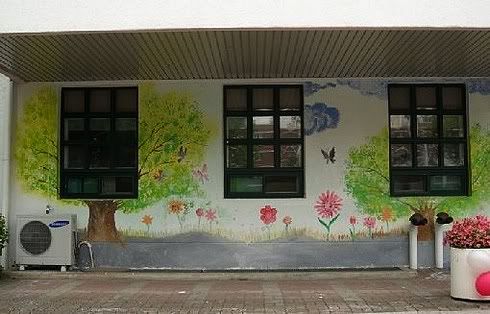 The episode of "My Fair Lady" with this particular scene is set to air on September 30th. I'm looking forward to it!
Source. allkpop