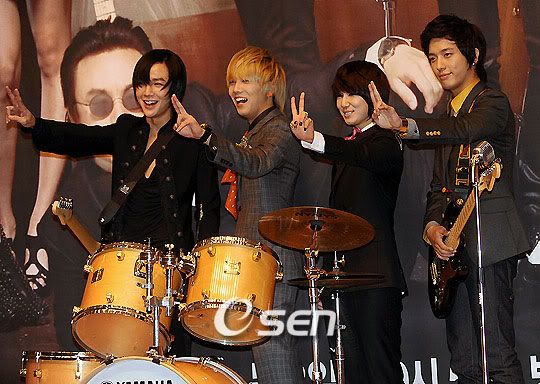 With October 7th quickly approaching, the cast and crew of the upcoming SBS drama,
You're Beautiful
, are busy with promotions. The cast came together for a press conference today and with all of them standing side by side for photos, you can tell the drama will serve some major eye candy for viewers. At first I was a bit unsure about the potential success of the drama due to the redundant storyline but after watching footage from the drama's
mini-concert held on the 20th
, I have to take that statement back. The use of the drama's fictional band as the focal point in promoting the drama appears to be stirring up a lot of interest.
SBS has also released a longer teaser revealing some skinship, parodies, and a whole lot of closeups. Looks like the boys of F4 have some competition (well, if you count
Park Shin Hye
). "You're Beautiful" will air on Thursday, October 7th at 9:55 PM Korean Time.
Check out the teaser and eye candy below: