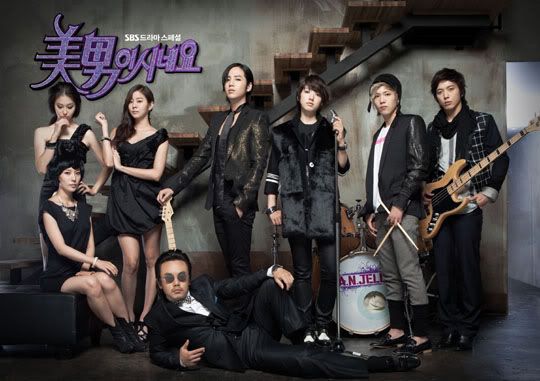 Having released a
fantasy poster
of the
A.N.JELL
members for idol drama,
You're Beautiful
earlier today,
SBS
has continued to build up hype by releasing another poster, with the supporting cast members included.
Unlike the dreamy feel of the earlier poster, this new poster sees the four members of A.N.JELL, Park Shin Hye, Jang Geun Suk, Lee Hongki (FT Island) and Jung Yong Hwa (CN Blue) dressed up in stylish chic outfits, like singers attending a year-end awards ceremony. Besides them, we also get a glimpse of the supporting cast including UEE who plays a superstar, Kim In Kwon who plays a manager (the loser in
Haeundae
) plus two other girls.
For those of you who haven't been keeping up, A.N.JELL is the idol group that the entire drama will be based on. In fact, they are the top idol group, and since allkpop readers love their idol groups, I'm sure this drama will be a big hit with you all.
The first episode is set to air on October 7th, 2009.
Source: allkpop