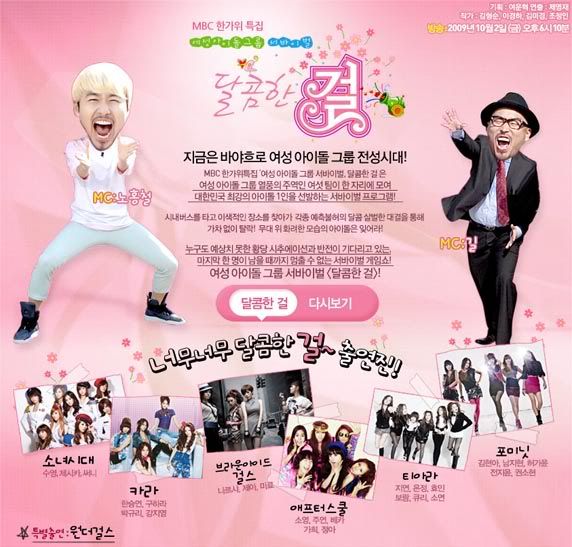 MBC's Chuseok Special variety show Sweet Girl is causing a stir amongst netizens after KARA's Goo Hara failed to come in first despite leading comfortably.

The highly anticipated idol survival program had featured the best of Korean girl groups in recent times like
SNSD
,
KARA
,
Brown Eyed Girls
,
After School
,
4minute
, and
T-ara
. Polls were held earlier in the show to help select Korea's number one idol and SNSD's
Sunny
took the title for the prettiest lips, while T-ara's
Hyomin
took the place for the prettiest legs.
What was great about this show was that it allowed you to see which girl group members were good friends with each other. One example was Kara's Goo Hara with SNSD's Jessica and some other unexpected surprises.
The broadcast also featured heated rounds of arm wrestling and other nail-biting competitions. After the third round where they had to pull a truck some distance, KARA's
Hara
and
Jiyoung
, T-ara's
Qri
and
Boram
, 4minute's
Jihyun
and After School's
Beka
were the only ones left in the competition. The six survivors held a running race at the end to be crowned the best idol and take home a pack of highly valued Korean Beef.
Goo Hara led the race by a comfortable distance (as seen in picture), but tripped right in front of the finish line and lost the grand prize right in front of her eyes.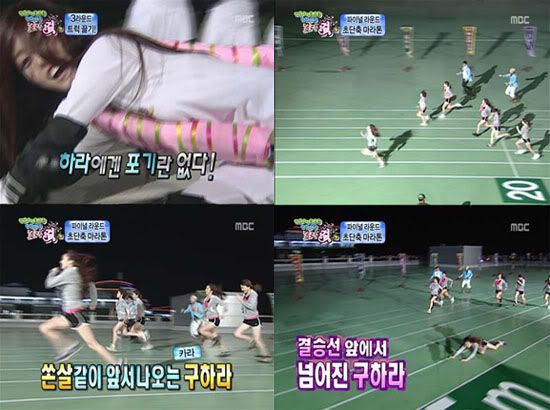 T-ara's Boram thus ended up as the best idol, with netizens showing their sadness at Hara's loss after the broadcast. The
Wonder Girls
must be feeling their sadness since they had predicted that Hara would win in their video message earlier in the show.
Check out the whole show.
Many thanks to
nasasapce
for videos.
Source: allkpop