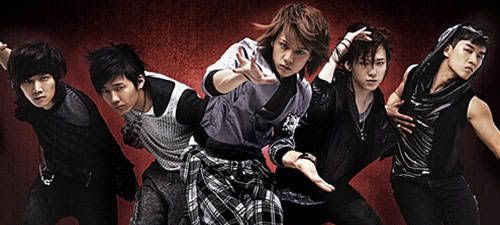 With their debut stage on Music Bank and the release of their MV for "Bomb Bomb Bomb" last month, rookie boy band
SHU-I
has netizens abuzz with a recent video of them practicing
2PM
's "
Again and Again
" .
Initially, the k-pop quintet demonstrate their impressive dancing abilities in emulating the choreography of "Again and Again". During the second half of the song, however, the boys progressively transition from serious mode to beast mode, busting out in a hilarious improvisation of their sunbaes' hit song. From
Hyung Joon
's imitation of
Nichkhun
's chest rub to
Minho
's saucy hip swing from "
Abracadabra
", the boys exposed a goofy side of them that resembled 2PM's in the rehearsal clip of their song "
I Hate You
".
Indeed, the rookie group may not be as advanced as 2PM in the "
ssanti
" department, but they did pretty well considering the difficulty of succeeding a boy band who is also referred to as "
beastly idols
".
The following is the name of the members, in order of appearance:
Red shirt, grey sweatpants = Hyung Joon
Purple vest, black cap =
Hwang Inseok
(leader)
Blue sweatshirt, jeans =
Minho
(main vocal)
Black hat, black sleeveless tee =
Jin Seok
White shirt, black training pants =
Chang Hyun
cr:
shuiful
Viewers on
YouTube
have commented:
"omg these boys are too adorable"
"I loved how Chang Hyun came back to do his pose at the end... too cute"
"it made me really really REALLY REALLY REALLY miss 2PM..."
Understandably, SHU-I's dance cover made many viewers nostalgic of 2PM, who have been sorely missed since controversial issues sprouted up concerning ex-leader
Jaebeom
.
Some argue that it was too early to do a parody of the 7-member idol group since the controversial issue concerning ex-leader
Jaebeom
sprouted up, On the other hand, others thoroughly enjoyed the dance cover and have expressed their nostalgia of 2PM who are been sorely missed these days.
So, what do the readers think?
Was the timing for a parody of 2PM's "Again and Again" off or did you receive a good laugh or two from watching SHU-I's rendition of the popular song?
Source: allkpop