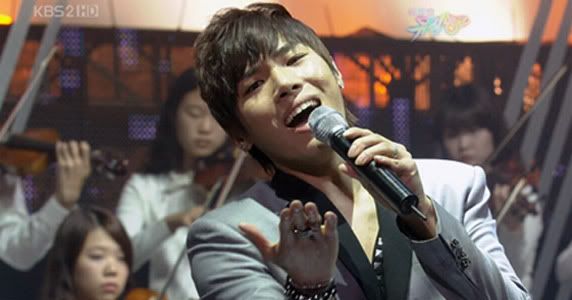 What kind of candy satisfies your
R&B
appetite and is calorie-free? Why, Wheesung's 6th Korean album '
Vocalate
', of course!
If you have not heard the 12 songs from his new album that were
released recently
, take a listen to Wheesung's live performance of the title track "
Trickling
" on
KBS 2TV Music Bank
. It will surely give you goosebumps!
Wheesung made a triumphant return to the music scene with his first comeback performance. The singing sensation proved that, even nearly a decade after his first debut with the short-lived boy band
A4
, his amazing vocals have not withered. Not only can he sing incredibly well, but his voice also lends itself inherently to every conceivable emotion through song--an ability that I find many contemporary artists lack these days. However, like a true experienced artist, Wheesung shows 'em how it's done and delivers a passionate singing with his powerful pipes.
He, himself, has claimed that his considers his most recent album the best among the six he has done up-to-date. Do you think his live comeback stage lived up to the hype he has been building or is it time for another--particularly, a younger--artist to shine?
Source. allkpop