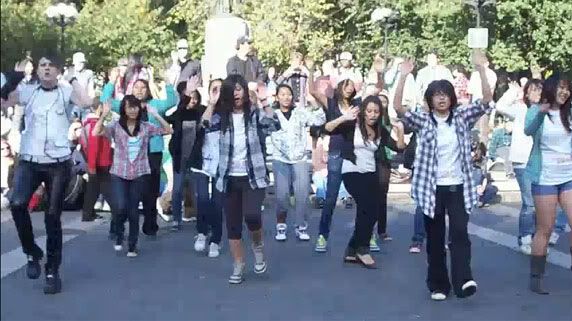 Much like their fellow Hottests in Korea last month, New York
Hottest
and
Jaebeom
supporters gathered together in
Union Square
yesterday to perform
2PM
's hit debut single
"10 Points Out of 10."
Prior to the actual performance, rehearsals were held for the fans interested in supporting the cause. Once the time came, fans and non-fans alike gathered around the center where the dancers performed a special rendition of their idols' song. They left in every move of the routine, including Jaebeom's difficult handstand at the very end of the performance! Seven fans also wore shirts with each of the member's names written on the back, making their presence known to all onlookers. It's clear that the participants not only got to publicize their love for Jaebeom, but had fun & enjoyed themselves through this public experience.
cr. wait2minutesplz
Ever since the Jaebeom controversy broke out, we've gotten a flood of messages from Hottests; the New York performance is but one of many performances that supporters have initiated and implemented for their beloved leader.
Source: allkpop