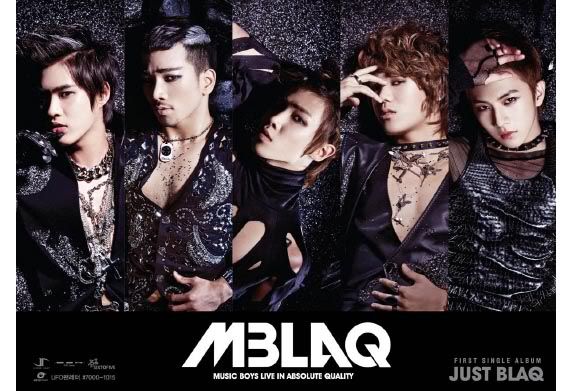 On the 9th, MBLAQ (Music Boys Live in Absolute Quality's), pronounced as "M Black,"
debuted
with their first performance in world-star
Rain
's "
Asia Tour: Legend of Rainism
," in Seoul Olympic Park Gymnastic Stadium. They performed 3 songs live, one of which was their debut album title song, "
Oh, Yes (오, 예),
" in the opening stage in front of 8000 attendance.
Rain showed a lot of satisfaction as he met with the reporters in his prep room after the concert. He commented, "
MBLAQ has been preparing for 2 years. They have great talent in singing, dancing, and rapping. Compared to my debut, I think their skills are better than mine.
"
Rain commented, "
Looking at MBLAQ's performance, I think I was more anxious. ... I can now understand Park Jin Young hyung's feelings. He said he would come to tomorrow's (10th) concert, so he can evaluate MBLAQ.
"
Here are the stage names of the members of MBLAQ and a bit of info on them:
Jung Byung Hee (Jang Goon)
:
Age/Birthday - (22) & 1987.11.06
(Ex-TYKEYS member)
Yang Seung Ho
:
Age/Birthday - (22) & 1987.10.16
Lee Chang Seon (Lee Joon
):
Age/Birthday - (21) & 1988.02.07
(Have played the child version of Rain in his hollywood movie, "
Ninja Assassin
.")
Bang Chul Yong (MiReu)
:
Age/Birthday - (18) & 1991.03.10 (Little brother of actress
Go Eun Ah
)
Park Sang Hyun (Thunder)
: ****has been added at the last minute instead of Kim Sang Bae***
(Little brother of
2NE1
's
Sandara
) (Also was a trainee in
IU
's agency,
LOEN Entertainment
)
Kim Sang Bae
: ***Left the group at the last minute***
With Sandara's little brother joining MBLAQ, it just makes it more exciting! Another sibling has joined fellow duos
Jessica-Kystal
and
Jiyoung-Kim Yoon Ji
!
With Rain saying that MBLAQ is better than when he was when he a rookie, I will be expecting a hot debut from them!
Stay tuned, as MBLAQ will debut on the 14th.
Here is a video of Sandara's brother, in a clip with IU, doing a cover of
Super Junior
's "
Sorry Sorry
" and
Big Bang
's "
Lies
"
VC:
IUworld
VC:
xalejandraVIP


Source: allkpop