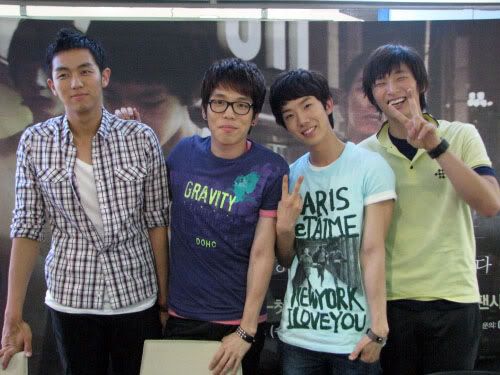 Silently and almost unnoticed, it was noted by fans that
2AM
will be joining the existing list of 15 performers at the
2009 Dream Concert
this Saturday.
The notice that 2AM will be performing was added in by
JYP Entertainment
on 7th October to their schedule on 2AM's official website. This last minute addition meant that 2AM would be performing without any of their fans cheering on, having to rely on neutral support from other fans since they weren't in the original line-up from the start when tickets went on sale.
So in a lose-lose situation, 2PM's performance will not be shown on tv while 2AM will be performing without their own fans. In the aftermath of the
Jaebeom
incident, 2AM has been filling in spots vacated by 2PM just about in everything possible.
The 2009 Dream Concert scheduled for 10th October at the Seoul World Cup Stadium will see the best names of the K-pop gather under the night skies and perform for their fans. The list of performers include
Super Junior
,
Big Bang
,
SNSD
,
SHINee
,
2NE1
,
Chae Yeon
,
f(x)
,
2PM
,
KARA
,
Wheesung
,
Jewelry
,
4minute
,
T-ara
,
MC Mong
and
Park Hyo Shin
. Among the list of notable absentees include
DBSK
, Jaebeom (2PM),
Daesung
(Big Bang) and
Kangin
(Super Junior).
Source: allkpop