We have reported earlier about the boycott set to take its place on the 10th, regarding the exclusion of 2PM's performance for the Dream Concert's public broadcasting.

2PM, or some may call them 6PM, are back in schedule again, yet with their leader's position remaining empty. Returning 2PM members are set to perform their "come-back" stage on the 10th at the Dream Concert. However, SBS recently agreed with the JYP Entertainment to cut out the footage of 2PM's stage for their broadcast on the 11th, due to the controversies still revolving around their former leader, Jaebeom. This officially abandoned the last straw for the fans to see their beloved 2PM perform on stage again after a very long time of absence.

The heartbroken fans gathered under the club named "The Happiest Time for the Noonas", to purchase an ad containing messages toward their wait for Jaebeom. The ad was displayed on page 6 of Han Gyuh Reh News on the 9th, successfully raising their voice throughout the country.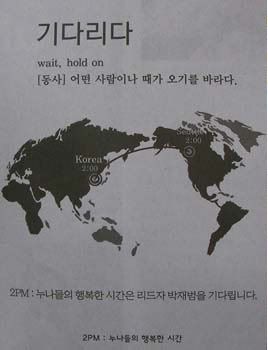 The Hottests have proven once again that their sense of creativity is always miles ahead everyone else. The ad showed a world map with a line connecting the cities of Seoul and Seattle, yet with both clocks pointing at 2:00. It reflected the deep meaning of their unification, and how they only shine when there's seven on the stage.

Also, they added the word, '기다리다', meaning 'Waiting'. Below the word, they included the bilingual definition straight from the dictionary but seems to describe their status in minds. At the very bottom, they directly expressed their thoughts by writing "2PM: The Happiest Time of the Noonas await for the Leader Jaebeom's return."

I think it's now time to ask the real question... would Jaebeom really want all this?
Source: allkpop