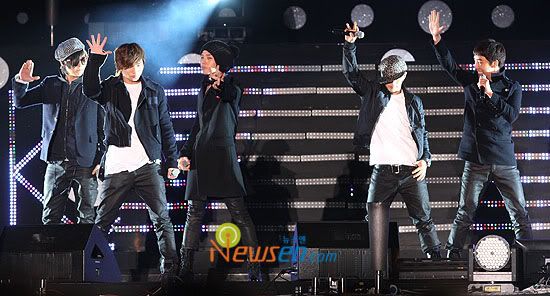 We already knew beforehand that
2PM's
performance won't be shown during the tv broadcast of the
2009 Dream Concert
on 11 October through SBS. But fans, especially VIPs wasn't counting on that to happen to
Big Bang
and
G-Dragon
as well. On the day of the concert, it was
revealed
that along with 2PM, Big Bang and G-Dragon's performances will not be shown on tv. Why was this so?
A Dream Concert staff tried to explain the situation, "When we signed the contract with
YG Entertainment
earlier, they had actually opted for the non-broadcast clause. There was no problem with that absolutely." YG Entertainment said, "We felt that it was not important whether the performance was broadcast or not, it was the participation that mattered. Besides it's a written rule in YG Entertainment that the non-broadcast clause is enforced when it's not a promotion period."
But that statement sounded ambigious especially when their performance at the recent
Asia Song Festival
in September without Daesung was aired. Furthermore, why was G-Dragon affected? Isn't he currently in the midst of promotions? And what about
2NE1
then? Aren't they currently on hiatus, preparing for their new album?
YG Entertainment explained further, "Although Big Bang performed as five on stage last night, Daesung who has just recovered from his injuries wasn't at his best condition, meaning that the overall performance level of Big Bang was affected as well. Thus, we decided to opt for a non-broadcast since Big Bang couldn't show off their best."
Source: allkpop