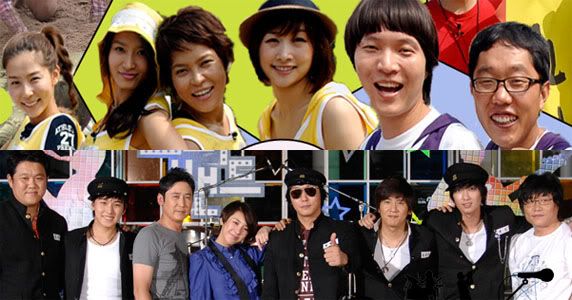 It's like a warzone every weekend for the the broadcasting companies to gain more viewers and advertising dollars, and it looks like
MBC
has just lost again.
With consistent low ratings and the lowest rating recorded only a few days ago,
Nodaji
had already been in grave danger of being stopped. For those of you who were unaware, and of course the rating of 3.1% tells it's mostly all of you, Nodaji is a historical cultural variety show with an interesting concept of a national treasure quest.
It's pretty self-explanatory that these hardcore viewers choose the fun over their culture, since the majority of the ratings went to SBS
Family Outing
and KBS2TV
1N2D
. The power of idol appearances, such as
Jaebeom
of
2PM
,
Nicole
of
Kara
,
Shindong
of
Super Junior
, and
Jo Kwon
of
2AM
, did not seem to affect the ratings at all.
Nodaji's producer,
Kang Young Sun
, stated, "We can't specify anything right now, but the
closing of the show itself is firmly decided
. The details will be released at a later date." I guess it's time to say goodbye after their six weeks of "failure" since debuting on 30th August. It was reported that the Chuseok special had been their last straw to grab onto, yet it ended up being brutal with a rating of 3.1%.
Sadly, MBC
Sunday Sunday Night
had been undergoing numerous downs this year. The tragedy began with an airing of "
Big Dreams
", which lasted slightly more than two months. They then began to use their hidden card: the idols. SNSD starred in their own programs of "
Horror Movie Factory
" and "
Have Strength
". But they were soon replaced by "
Good Body, Bad Body, Weird Body
" where the hotties like
Taecyeon
and
Jessica Gomes
appeared as special guests. But nothing ever worked.
MBC Sunday Sunday Night currently consists of two programs,
Oppa Band
and Nodaji. However, Oppa Band is also being in danger of getting axed, after their non-stop downfall of ratings. Producer
Sun Hye Yoon
of Oppa Band revealed, "We aren't in a situation where we can tell whether the show is over or not. We did not even have a closing party. It's not even clear whether the filming on the 12th will be our last."
It is sad to see MBC having so much trouble with their ratings nowadays. Seriously... what happened to all their legendary shows that once marked their history?
Source: allkpop