FT Island's Lee Hongki
was joined by his fellow cast on the upcoming
SBS
drama "
You're Beautiful
" performing MV parodies of
SNSD / Girls' Generation's
"
Tell Me Your Wish / Genie
" as well as parodies of other hit-songs.
"You're Beautiful" has prepared a total of 7 MV's in all, which were filmed through 6 days and nights. The parody music videos will be used as a epilogue, being shown after the ending of each episode of "You're Beautiful," right before the preview scenes for the next episode. Here is the list of parodies they'll be performing:
Seo Taiji and the Boy's
"
I Know
",
Roo'Ra
's "
Angel Who Lost A Wing
",
HOT
's "
Candy
",
DJ.DOC
's "
Run To You
",
Crying Nut
's "
Let's Ride A Horse
",
Fin.K.L
's "
Forever Love
", and of course
SNSD
's
"Tell Me Your Wish."
Park Shin Hye
,
Jang Geun Suk
, Lee Hongki,
Jung Yong Hwa
,
Bae Geu Rin
, and
Choi Soo Eun
have all practiced the choreography hard and they will show off their dancing skills, as well as showcase different hairstyles for each MV. Lee Hongki, who will take SNSD
Jessica
's role in "Tell Me Your Wish", commented, "
I started preparing before the filming of MV by looking at some of the videos.
" But that's not all... he'll be wearing skinny pants and 7cm high heels!
The leader of the People choreography team,
Kim Jin Won
, complimented them, saying, "
They learned the choreography while also improvising it. They learned quite fast so I was able to teach them while also enjoying it myself.
"
SNSD's
Tiffany
is said to have sent a encouraging video message to the team, saying, "
I was surprised because both Lee Hongki, who turned into ice princess Jessica, and Jang Geun Suk, who turned into Yuna was really pretty.
" "
I am looking forward to the drama when it starts.
"
It will be curious to see which of the premiering drama's:
SBS's "You're Beautiful,"
(premieres October 7th)
KBS 2TV's "Iris"
(premieres October 14th), and
MBC's "Hero"
(premieres November 18th) wins the competition, as they will all be going head-to-head as Wed-Thurs dramas.
Adding these little touches will surely bring more enjoyment to the viewers. I can't wait to see Lee Hongki and Jang Geun Suk, dressing into a SNSD! My list of "why-I-must-see-this-drama" just increased!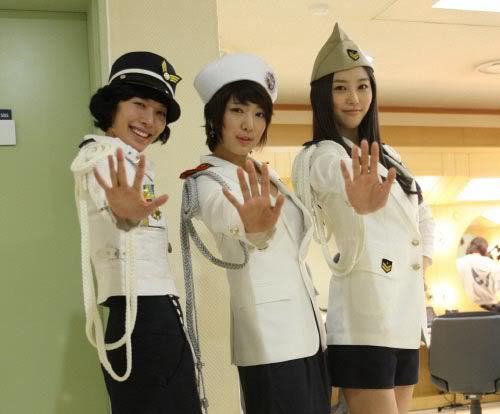 Stay tuned, as the first episode will be broadcasted today.
Source: allkpop