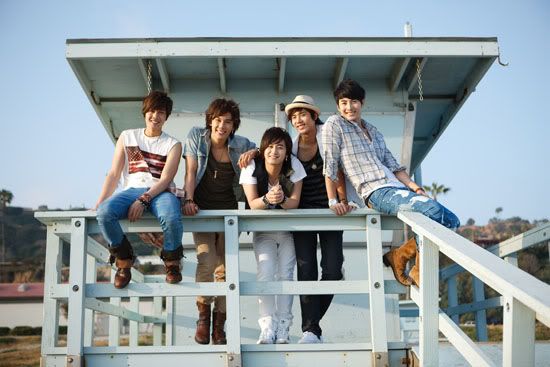 With
SS501's
leader
Kim Hyun Joong
being sidelined with the swine flu back in early September, it's been a while since we saw all 5 members of SS501 perform together on stage. Earlier today, the boys of SS501 finally got back together on stage as one at the Korea-China Song Festival held in Qingdao, China. They performed both
"Deja Vu"
and
"A Song Calling for You."
You can check out the fancam performance below:
cr: shirbogurl21
It's good to see them perform together on stage once again and also seeing Kim Hyun Joong healthy.
In other news, SS501 Member
Kim Kyu Jong
is filming a web cartoon drama called
SETI
. It's a drama CF for
Canon
and all the shots are recorded using the Canon EOS 500D. There will be 16 more episodes of SETI, each episode is fully animated except for one live action scene which will feature Kim Kyu Jong. DSP Entertainment planned to involve Kyu Jong in more acting roles and this looks like an early step for him into that field.
cr:
Source: allkpop