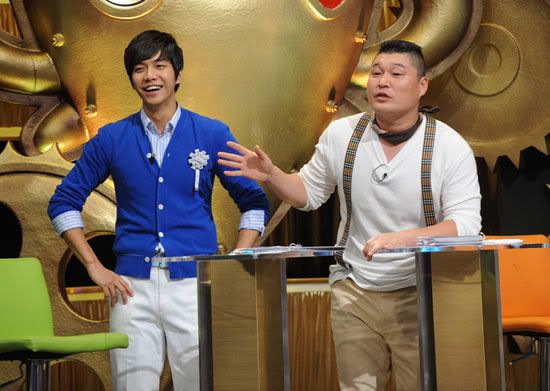 Lee Seung Gi
has successfully finished his
MC initiation
with the cheers of
SNSD's Yoona
, who also happens to be his ideal girl.
Congratulations to MC Lee Seung Gi, who made his first debut on SBS's
Kang Shim Jang
! It was reported that, despite it being his first filming of a show as an official MC, he did a pretty darn good job! His mc-ing went so smoothly that he received praise from the guests, his
MC partner Kang Ho Dong
, and even the staff.
Having a similar relationship to that of brothers (thanks to
1N2D
), Kang Ho Dong was full of praises to his younger "
brother
" Seung Gi. Throughout the show, Kang Ho Dong was constantly complimenting, "
You're very good Lee Seung Gi!
" in order to ease his tensions.
Although Lee Seung Gi has admitted tha
t his ideal girl was SNSD's Yoona
, he was very shy during the filming, unlike his usual self.
Knowing that she was Lee Seung Gi's ideal girl, to ease his tensions as well, she stated, "
Be more successful than Kang Ho Dong and become the #1 MC.
" That comment must have ignited a will in him to overcome and succeed his older "
brother
Ho Dong.
This episode airs on the 6th.
Source: allkpop