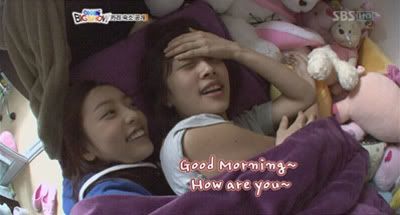 Overdue, but surely not forgotten, another group left their impression on the masses during
SBS
's
Idol Big Show
. Guess who! If you guessed the lovable girls of
Kara
then give yourself a high five.
These lovely ladies kicked off their series of awesome appearances with a a video revealing their morning look at 8AM. Though it was not exactly the most flattering side to see, the girls were good sports and even greeted the cameras "Good morning!" in English. Playing along with
Hara
, the trouble maker who brought the cameras inside their dorms, as they awoke from their slumber, the girls went about their usual morning routine, from getting dressed to chowing down on a homemade breakfast courtesy of leader
Gyuri
. Even though they were all natural and extremely worn from their excruciating schedules, the girls took the time to comically bid their maknae
Jiyoung
farewell as she left for school. The revealing video ended with the remaining four members of Kara goofing off and dancing to various popular songs like
4Minute's "Muzik"
and
Brown Eyed Girls "Abracadabra."
cr. cherryanne99
The girls continued to show their dorky and cuter sides in an interview they held with the man of the hour,
G-Dragon
. After the series of questions were answered, the highlight of the interview was shown: G-Dragon got schooled by Kara on their famous "butt dance."
Now let's get to the part that everyone's been waiting for: the performances! The ladies kicked off the show, trotting it up with their covers of
Jang Yoon Jung's "Oh My!"
and
Kim Hae Yeon's "It's a Snake
." Stay tuned for a twist on their epic butt dance at the very end as well!
cr. JayGregory100
Perhaps the biggest treat was their final performance for the show special.
Nicole
and Hara heated up the stage with a sexy chest poppin', hip groovin' number to
Madonna's "Music."
As the sexy duo got down and dirty, the trio consisting of Jiyoung, Gyuri, and
Seungyeon
stole the show with their hip hop moves to
Wreckx's "Rump Shaker."
Finally, the girls come together to finish up their sexy performance to
Ciara and Missy Elliot's "Work."
What made this particular performance so special to
kamilia
was that it was very reminiscent of Kara's
"Break It"
days, when they had a very strong and sexy concept with equally powerful dance moves. After several singles where the concept was nothing but overwhelming cuteness, Kara shows how versatile they really are in the entertainment field.
cr. Jheane718
Source: allkpop