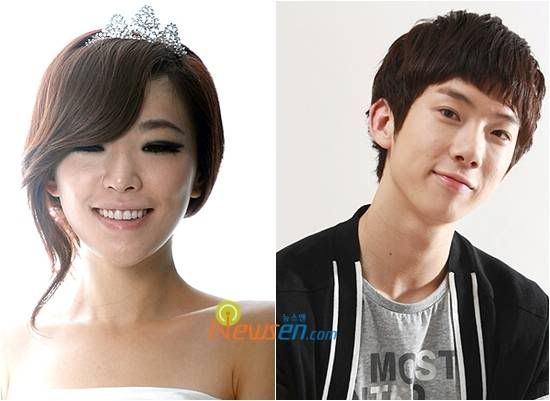 It looks like a lot of you readers are excited for the latest couple for MBC "
We Got Married
",
Brown Eyed Girls
maknae
Ga-in
&
2AM
's
Jokwon
.
Many fans are looking forward to this undoubtedly epic pairing, and others are still reeling in shock. If you're in the latter category, you're not alone - it looks like Ga-In & Jokwon are pretty surprised as well!
Ga-in first met Jokwon as her husband for the first time on the Chuseok special episode of "We Got Married" which aired today (Oct 3). Jokwon showed up to their meeting place disguised in a mascot costume, and, upon Ga-in's arrival, folded his arms and danced the "saucy hip sway", Dirty Eyed Girls style. And with that distinctive move, a lightbulb went off & realization dawned on Ga-in...
Ga-in expressed, "In the past, Jokwon made me think about how it'd be nice to have a little brother like him. I don't know if I can carry on a marriage with him as my
husband
."
Jokwon also mentioned, "This would have probably been different with someone I didn't know. [Considering how we know each other,] I really don't know what to do."
Really though, Ga-in's shock is to be expected - if you found out you were marrying the
Ssanti Queen
, wouldn't you be fazed as well?
Don't get me wrong, I love these two to death & hope that the saucy-hip couple will stay on the show as a couple even after the Chuseok special.
Despite their shock, it looks like these two still hit it off well.
Source: allkpop