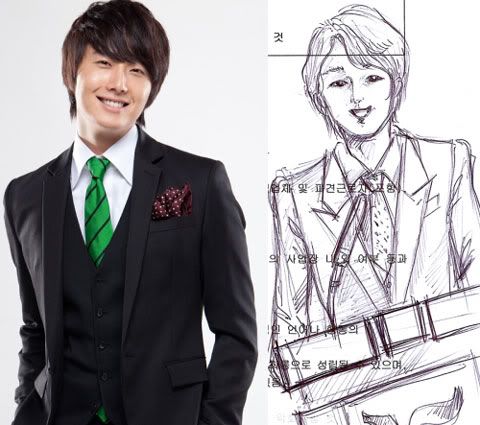 The lucky person in the sketch was actor Jung Il Woo, who received it as a gift from fellow actress Yoon Eun Hye on the filming set of Take Care of My Lady recently.

During Episode 5 shown on 2nd September, Lee Tae Yoon (Jung Il Woo) was giving a sexual harassment prevention lecture to women in his organization. Among the listening crowd was Kang Hye Na (Yoon Eun Hye), who sketched a portrait of Tae Yoon in real-time during the actual filming and later presented it as a gift to him. Jung Il Woo was very happy with the sketch and also expressed his amazement at Eun Hye's hidden artistic talent.

Not too long ago during an outdoor shoot and feeling hungry, Jung Il Woo took out a pot and stove, and started cooking ramen noodles and then enjoying the little feast with Eun Hye, bringing their sweet love from their drama into real life.


Jung Il Woo said, "Eun Hye nuna has a great personality and is very friendly, and we know each other very well now. As for Sang Hyun hyung, it has been a very enjoyable time working with him since we knew each other from before and understand each other's acting style. Finally, for Chae Won nuna, it's also the same as we knew each since our trainee days, and even attended acting classes together. I feel very comfortable and honored to be working with them."
Cr. allkpop