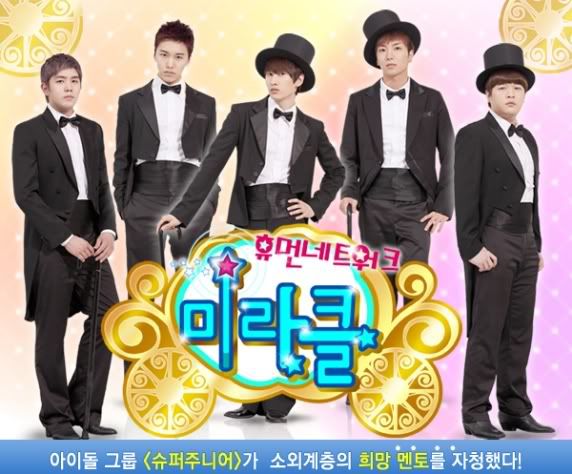 Well, it wasn't an actual "party" party, but more of a
jjajangmyun (black noodles) party
on the streets.
If that didn't sound very intriguing, listen to who attended:
Super Junior, Park Kyunglim, and T-ara
. Now, if you're thinking, "Why did they attend a street-party for some black noodles?!" Well, here's why.
Aside from jjajangmyun being totally delicious,
Super Junior, Park Kyunglim, and T-ara
were all filming for
KBS Super Junior's Miracle
, where their objective for the episode was to give hope to a law student,
Oh Saehoon
. Oh Saehoon comes from a poor family background, and despite the hardships that he endures, he holds a dream of attaining a legal/law profession.
The team had intended to give Oh Saehoon some words of encouragement during a surprise visit to his work, but it turned out that the surprise was on them. Without a planned appointment, the team was not able to meet Oh Saehoon, and had decided to just wait. However, the team soon became both hungry and exhausted, and decided to have some black noodles and dumplings delivered to them... on the streets.
This meal soon became a fiesta as female students joined in after noticing celebrities eating on the streets. The celebrities were even kind enough to share the food with the onlooking students, despite their own hunger.
This episode will air on September 19th 2009 at 08:00PM KST.
Cr. allkpop