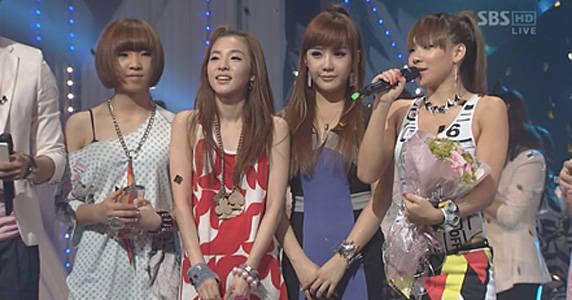 As first reported, 2NE1 originally was going to end their hugely successful run with their first mini-album by performing each one of the individual tracks off of the said album for the next few weeks. However, YG Entertainment has reneged on their original plan for 2NE1 and they've instead decided to end the promotions for 2NE1's first mini-album with the 'In The Club' performance on this week's SBS Inkigayo.

YG Entertainment's reason for the change in plans is because they want to focus on 2NE1's next album which will be released sometime in the last half of October. They also want to give the members of 2NE1 a little break so they'll be fully recharged and ready for the promotions of the next album.

Personally, I think this is yet another smart move by YG Entertainment. 2NE1's mini-album was starting to wear thin on me and, instead of bleeding the mini-album dry; YG is doing the right thing by ending the mini-album's run now to focus more on 2NE1's next album. I think 2NE1's next album is going to obviously be another hit but the million dollar question is how big of a hit will it be? G-Dragon is destroying the competition at the moment, with no clear signs of slowing down, and Taeyang's second solo album is scheduled to be released around the same time as 2NE1's next album. It looks like we might have a little YG style battle in the near future (G-Dragon vs. Taeyang vs. 2NE1), but the clear winners are going to be the spoiled YG family fans.
Cr. allkpop