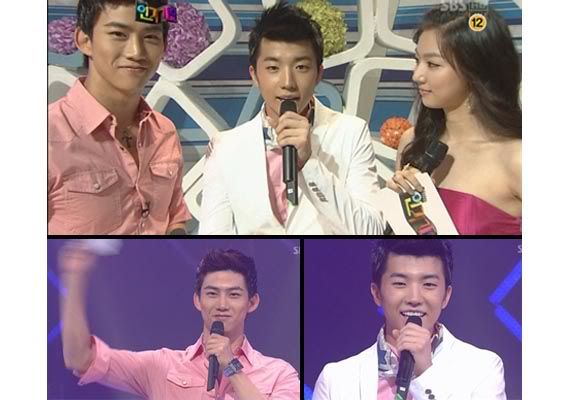 With all the craze about Jaebeom, 2PM's Taecyeon and Wooyoung have been confirmed to continue their work as MCs on SBS Inkigayo.

The Inkigayo production team left a message on its homepage saying, "In a few hours, Taecyeon and Wooyoung will MC the live broadcast stage. ... We know that some 2PM fans will have a hard time looking at them trying to smile ... [and] some will have frustrating mind and heart waiting for Inkigayo."

It's good to see that the Inkigayo staff carefully considered this decision and considered the Jaebeom controversy with 2PM's well-being in mind. "We are sad to see 2PM members, who have been working hard and doing well, get hit by this problem. It's also saddening to see Taecyeon and Wooyoung having to MC with all of these problems going on ... Because of the grief and craze the MCs are going through, the atmosphere will be different than before."

However, schedules are to continue as planned. "Unfortunately, the situations are changing everyday so we can't promise anything about the MCs' issues, but we will try our best that Taecyeon and Wooyoung will be our first priority in all of our future decisions."

The team also stated on their page, "If this was a variety program, we would have made the MC rest. But opportunities as MCs in a music program for singers don't come easily... Thus, we have decided that Taecyeon and Wooyoung will continue their MC activities well like they have done before. We hope that you will watch them with generous hearts."

Seems like JYPE doesn't want to change the other members' schedules despite all this craze that's been going on. However, even if their schedules aren't affected, what about the members' minds and hearts? I give best of luck to Taecyeon and Wooyoung on their MCing and wish the best of luck to all of 2PM. Stay tuned later on today, for the broadcast of SBS Inkigayo.
Cr. allkpop