Trend-setting Super Junior-M has revealed its first exclusive photoshoot since returning.

Super Junior-M has set out for China with their title track "Super Girl," and has recently worked with Numero for their photoshoot. Let me warn you fangirls, Numero has yet to fail in disappointing us. A round of applause to them for making our favorite boy idol group look like complete idiots. No offense, but really, the hair-dos and outfits are just not pleasing my eyes. Especially Henry, I am not understanding the concept behind the feathers. But then again, it is all "art" for Numero.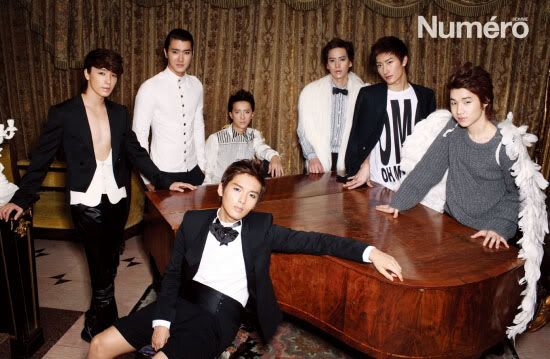 Super Junior-M consists of 5 Super Junior members: Han Kyung (the leader), Donghae, Siwon, Ryeowook, Kyuhyun and two non-super Junior members, Henry and Zhou Mi. The group has already achieved China's best group award, Grand Slam, through their first album, "Me" released in April 2008.

"Our last album's songs were Super Junior's songs re-sung in Chinese, however our new songs were made especially for Super Junior-M. The songs are going to be fresh dance songs and will be a hit like 'Sorry Sorry'. Because of Zhou Mi and Henry, the Chinese members in Super Junior-M were all able to work together and it was nice. We will be able to meet fans through music videos and albums in the nation too."
Source: allkpop