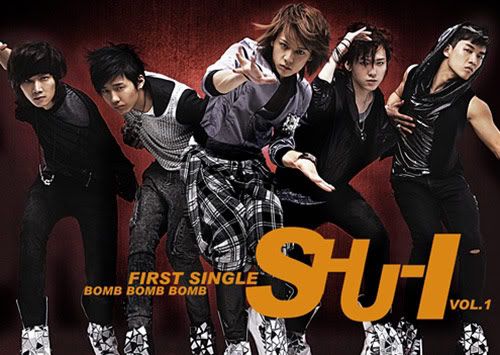 SHU-I maybe the bomb or they could just bomb and fail miserably, but we'll have to wait until September 11th for their digital single, "BOMB BOMB BOMB." Who came up with this brilliant marketing strategy?

SHU-I will be a 5 member boy band consisting of different talents and traits: Hyungjun(pretty boy), Minho(main vocal), Jinsuk(dancer), Changhyun(charisma), and Insuk(leader).

For the past 2 years, these boys have been training hard under the name of SHU-I (So Hot Union of Idols), and have plans to not only make an impression in Korea, but all throughout Asia.

Their debut track "BOMB BOMB BOMB," is said to be a powerful and fresh new track, inspired by European techniques.

SHU-I will begin their promotional activities mid month. Are you excited about this new group? After all, they are the "So Hot Union of Idols," quite frankly the worst k-pop name ever. Call me Miss Cleo, cause I have a hunch they're going to bomb.
Cr. allkpop