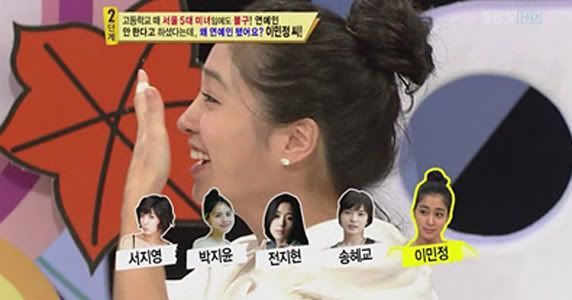 Lee Min Jung recently revealed the story of how she was already well-known for her beauty when she was in high school.

This story was revealed during the 21st September episode of Ya Shim Man Man Season 2 where Lee Min Jung had appeared as a guest. In the segment where questions from viewers were posed to guests on the show, a viewer said, "Because of Lee Min Jung's beauty in high school, she was named as a member of the '5 Seoul Beauties'."

Lee Min Jung was surprised that this was being mentioned and said, "When I was schooling, everyone loved to talked about who were the pretty girls in neighbouring schools. The pretty ones were labelled and put into groups like, 'Seoul Beauties, 'Kangnam Beauties', etc."

When asked who were the other four members, Lee Min Jung said, "As far as I know, the famous ones back then were Jeon Ji Hyun, Park Ji Yoon, Song Hye Gyo and Seo Ji Young."
Source: allkpop