Sexy idol star
Lee Hyori
graces
China
with her presence once more to attend the
Hyundai
i30 showcase and press conference.
Though
we only got a glimpse
of Hyori and Taiwanese mega star
Wilber Pan
's Hyundai CF, fans that attended the showcase were able to watch the sexy diva perform her past two hits,
"U Go Girl"
and "
Mr. Big
" and witness the full MV for
"As Long as I Love You."
And to top it all off, Wilber Pan and Lee Hyori came together on the stage to perform their routine for the MV song live for all to see, making fans of either idol green with envy.
Miss Hyori has been well received by the Chinese public since her last visit and has created what fans describe as the
"Hyori Effect"
that has consumed all of China. In order to grasp just how widespread this effect is, let's go down the list of accomplishments, shall we? China's four largest broadcasting stations have aired her CF already, 400 different locations have been bombarded with promotional posters, and finally, trains also felt the Hyori love as they became a promotional tool themselves after being plaster with posters as well!
However, as the "Hyori Effect" begins to overwhelm China, our diva still has quite a decision to make in Korea. As you all know, Lee Hyori is currently signed under
MNet Media
and has garnered much love and success through their partnership. After 3 long years, her contract will finally become expired and the time has come for her to either move on to another entertainment company or stick with Mnet. Come November, we will see which path Hyori will choose, but with
a new album in October
fans will surely support her whichever road she chooses.
For now, please enjoy these photos and videos taken from the showcase event!
cr. Barbie1r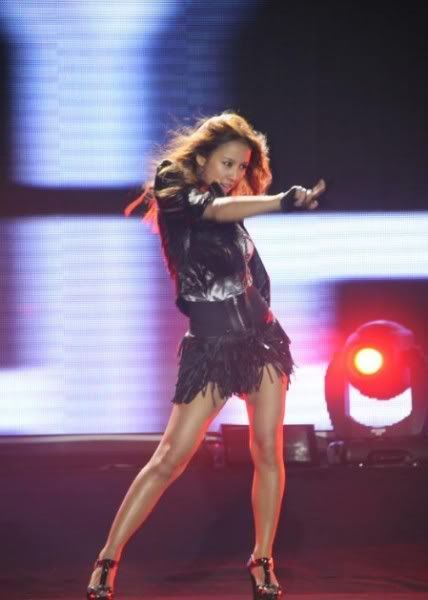 Cr. allkpop