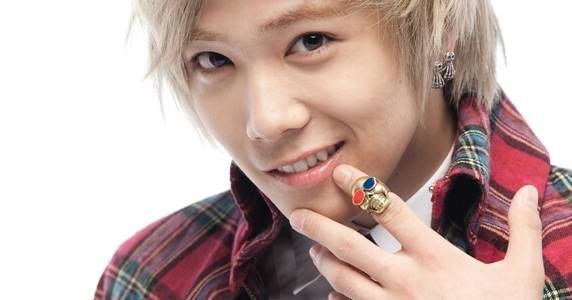 Forget FT Island, Hongki's got a new band! As allkpop reported a few weeks ago, Hongki has hopped on the idol drama bandwagon, joining the cast of SBS's "You're Beautiful" as a member of the fictional pop group A.N.JELL.

More details about this singer's character have been revealed - Hongki will play Jeremy, the wealthy son of a British aristocrat and famous model. As a young, well-mannered adult, Jeremy helps maintain harmony in the band. Though Hongki's family history isn't akin to Jeremy's by any means, his experience with FT Island has helped him settle into his new role. "In reality, I'm active with an actual group, so it's easier to play the role of a bright idol character. Coach Hong Sung Chang also told me to be myself, which took off some pressure."

Hm, British-Korean... the idea's sure to please some fans, but does that mean Hongki will be speaking English with a British accent? I don't follow FT Island personally, but way back when, my first impression of Hongki was this:



How Hongki will juggle two accents (British and Korean) at once, I don't even know... perhaps (hopefully? unfortunately?) he'll just sit pretty & stick to Korean. And you never know - maybe his English has improved by now, but in that case, I'll need some proof for reassurance.

As for the rest of FT Island, are there any hard feelings about their lead singer leaving them for this role? "The other FT Island members have been supporting me and have shown interest. They also have passions for acting and have shown curiosity for my role."

As many Primadonna's know, this isn't Hongki's first acting role - in 2004, the idol was also cast in MBC's "Freezing Point" and has made cameos on "Unstoppable Marriage", "On Air" and "Style". And of course, who can forget his steamy role in Midsummer's Night Dream last month?

"When I'm a singer, I feel the thrill onstage; if I'm acting, I develop feelings on the screen," Hongki expressed about being a singer and actor. Luckily for fans, we'll get to see a taste of both in this drama as well as at the mini-concert happening today.

The cast for this anticipated drama includes Jang Geunsuk, Choi Ran (who played Hongki's mother in "Freezing Point"), Park Shin Hye, Jung Yonghwa, UEE, Jung Chan and many others.




"You Beautiful" will begin airing on October 7 at 9:55 on SBS, replacing "Swallow the Sun".

Meanwhile, FT Island is working on their third Japanese single, entitled "Raining" & to be released on October 21. Looks like Hongki will be juggling lots of work in the next few weeks!

Source: Newsen