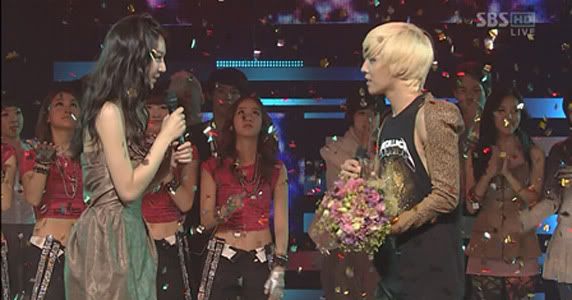 G-Dragon
's storming the music shows and taking no prisoners! The heartbreaker king has been reigning the kpop scene for a month now, and it seems like no one really minds - after a killer Heartbreaker performance, it was clear GD had yet another victory in his hands. Three Mutizens and
three gre
at performances
, should we expect any less?
Instead of spiffing up his look with a white suit like in past performances, GD opted for a casual black top and leopard-print off-shoulder jacket... thing. I'm loving the black and gold color scheme of this performance!
Performance:
Victory:
Interview:
Sorry G-Dragon, no more breaking hearts on Inki for you - since Inkigayo caps songs to three victories, this week's win marks GD's last Heartbreaker victory on Inkigayo. Who will be next to take up his spot -
Kim Tae Woo
?
Jewelry
?
4minute
?
f(x)
? With the show filled with such popular artists, I'm sure Inki will have no problem finding a worthy successor.
If anyone's agonizing over the end of this streak, fear not -
G-Dragon
's "Breathe" MV is set to be released tomorrow, so keep your eyes peeled!
Source: allkpop