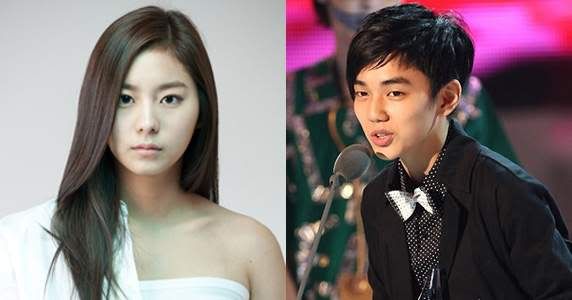 ....well, not quite! Yes,
UEE
&
Yoo Seung Ho
will be lovers very soon, but it's, you guessed it, just two feature roles in a music video.
Although she was the last member to join
After School
, UEE seems to be one creating the most buzz in the sixsome to say the least. She is everywhere these days, from variety shows like
We Got Married
to various
endorsements
... not to mention the
nude photo scandal
that broke out just over an hour ago, what's up with that anyway?
UEE's latest project has been revealed - the idol will be featured in ballad singer
Jo Sung Mo
's latest music video. UEE will portray a couple with "Korea's younger brother", Yoo Seung Ho. For those of you who can't place a name on his face - yes, he's the same guy from
4th Period Murder Mystery
and
T-ara's Lies MV
. It's a shame that they are not really dating in real life, these two look good together!
On June 27th, the filming for Jo Sung Mo's MV,
"Please Take Good Care Of Her"
took place at Kyung-Hee University. Like many other music videos, the plot revolves around a sad love story. The filming reportedly took over 24 hours; ten hours are said to have been spent in the rain. Jo Sung Mo apologetically cheered, "You are working very hard despite the conditions. I'm sorry you had to get so wet from the rain," to the actors.
Jo Sung Mo is known for both casting top stars to appear in his music videos and for making newbie actors into huge stars by appearing in his music videos, so it is a huge honor for an acting newbie like UEE to have been casted as a main character. Some of the top stars that have appeared in his music videos include Lee Byung Hyun, Choi Ji Woo, Jung Joon Ho, Shin Hyun Joon, Bae Yong Joon, and Lee Mee Yun, just to name a few. Kim Ha Neul and Shin Min Ah were both newbie actors that made their breakthrough thanks to Jo.
In response to being selected for this role, UEE stated, "My heart goes to this project ... I have learned more about acting through my appearances in Mighty Mouse's
"Love Cast"
, MBC's drama
"The Great Queen Seon Deok"
, and SBS's idol drama
"You Are Beautiful"
. Although I suffered from a cold as a result of getting hit by the rain, it was a fun experience."
Dang, UEE's involved with so many activities these days... it has me wondering why she joined an idol group when she has her hands full and seems to be doing well on her own. What do you guys think?
Cr. allkpop