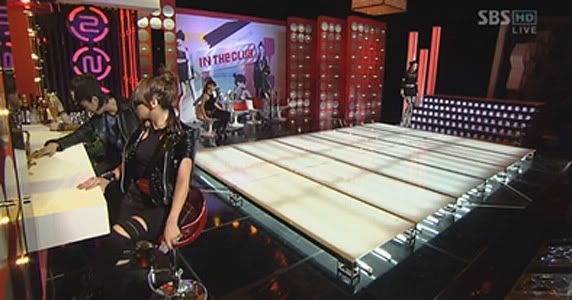 With much anticipation brewing after
our earlier announcement
of
2NE1
's new stage performance, the 4-member group rocks the stage on SBS
Inkigayo
with yet another popular track off of their mini-album, "
In the Club
".
Based on the title of the song, you may think this is a club banger; however, "In the Club" is actually more of a slow-paced R&B song with the lyrics conveying a story of a girl who tries to escape her pain of loving a playboy for just one night in the club. Likewise, the performance itself was centered around a club setting with stage theatrics similar to that of "I Don't Care".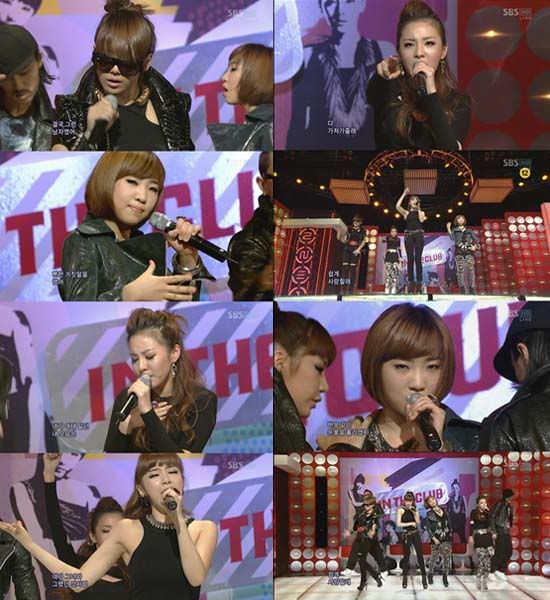 Many viewers were worried that the girls' packed schedule would impair the girls' amount of time to practice and lead to a rushed performance, but 2NE1 impresses us yet again tonight. The girls look fantastic coordinated in black and do a good job of showing their emotions and vocal talents yet again. I guess they weren't kidding around when they said this would be a stage that viewers would be glued to - you've gotta love the bar on the side and additional backup dancers. All four girls made for a performance that you simply couldn't tear your eyes away from, check it out here:
Unfortunately, a representative of
YG Entertainment reported
that
"The girls will end all activities with their performance on Inkigayo. However, instead of taking a break, they will head back to the practice room in preparation for their next album."
What a shame; I was really looking forward to a live performance of "
Stay Together
" on stage. On the other hand, I am greatly anticipating what 2NE1 has to offer next as they set the bar quite high for themselves within the past few months of their debut.
Will the fierce quartet be able to maintain the hype and attest to their name of becoming the new evolution of the 21st century? As we await for 2NE1's comeback, be sure to show your support for the 4 ladies at YGLadies!
Cr. allkpop