The four-member group
2AM
participated in a sizzling photo shoot displaying their fabulous muscle clad bodies. This process was captured through a video on Youtube, and was viewed over 15,000 times within the first few hours.
Now finally, the photos showing off their unexpected masculine side have been made available through their pictorial in
Men's Health Magazine
.
The greatest success story embedded within these stunning photos is that of
2AM member Changmin
. Many are unaware of the fact that Changmin used to weigh approximately 233 pounds. He was able to transform his body into that of a muscle man by dropping upwards of 65 pounds.
Another success tale lies with
Jo Kwon,
who held the nickname
"Narrow Shoulders"
for his skinny stature. Through extensive training and exercising, Jo Kwon was able to rid himself of that silly nickname. 2AM member
Im Seol Woong
had showcased his pecks earlier through their
2nd album's jacket
, but it's clear that all 4 members have been working hard not only on their music, but also on their rock hard bodies.
Because 2AM is usually known for their quiet ballads and softer image, the production crew were a bit shocked by the amount of masculinity they brought to the shoot. So were many of the fans! Many have expressed their surprise and have commented on 2AM's ability to produce high quality music and live a high quality, healthy lifestyle. Also check out the
2ONEDAY Forum
.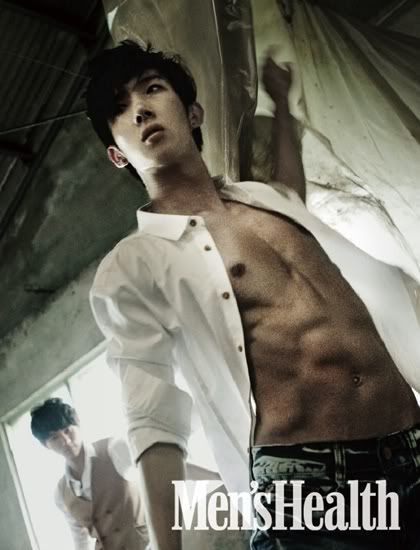 Source: allkpop