Not long after a few pictures of
Rain
's upcoming boy band
MBLAQ in NYLON magazine
was released,
J. Tune Entertainment
shared some more information about the members in a recent phone call with Newsen on the 20th.
It was made known that
Jang Goon
(real name:
Jung Byung Hee
) was previously the vocalist of a three-member group called
TYKEYS
, under
TY Entertainment
. He made his debut back in 2007 with fellow members Soo (vocals) and Hyun Jeong (rap).
Another piece of news which
I
touched upon earlier, concerned
Bang Chulyong
and his older sister / actress
Go Eun Ah
(
Bang Hyojin
). Netizens even managed to dig up old photos of the adorable siblings on
Go Eun Ah
's
Cyworld
and have already labeled him as a
Hong Ki
look-a-like.
From left to right: Jung ByungHee (22), Kim Sang Bae (18), Yang Seung Ho (22)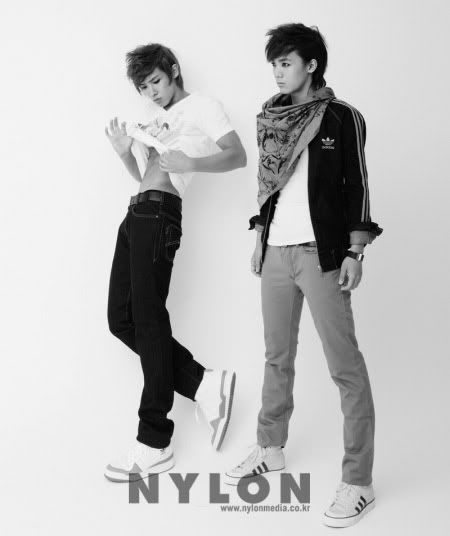 From left to right: Lee Joon (21), Bang Chulyong (18)
J. Tune Entertainment also disclosed each of the members' birth dates, as follows:
Jang Goon: November 6, 1987
Kimg Sang Bae: April 29, 1991
Yang Seung Ho: October 16, 1987
Lee Joon: February 7, 1988
Bang Chulyong: March 10, 1991
While their company created stage names for the other 4 members (Jung Byung Hee, Kim Sang Bae, Yang Seungho and Bang Cheolyoung) Lee Changseon's stage name will remain as Lee Joon. Their stage names and also the meaning of the group's name MBLAQ will be revealed soon.
In a matter of hours that the photoshoot from NYLON magazine was released, MBLAQ became the most searched item on various portal sites. Needless to say, just the reputation of being Rain's first male idol group has earned them much attention from fans and media alike. Rain is not only their producer, but is also in charge of their choreography as well. Can you say JYP v2.0?
I, for one, am relieved to know that some of the members are actually older than me so I can visually rape these boy toys without feeling like a pedo. Hurrah!
As we wait for more updates on this highly-anticipated group and the release of their first single in mid-October, check out some videos of Jang Goon during his TYKEYS days below.
TYKEYS' "I'm Sorry" MV.
Jang Goon and Soo's cover of Alicia Keys' "If I Ain't Got You" featuring Lee Jung.
Jang Goon singing Stevie Wonder's "Lately"
Source: allkpop