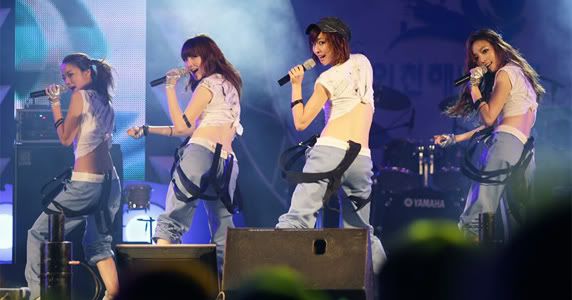 Kara
has made quite the killer comeback with their double hits
"Wanna"
and
"Mister"
, but what's keeping Kara in the spotlight is their eye-catching butt shake dance.
When asked by a reporter on the
Music Bank
set about the sexy dance, Kara's
Nicole
commented,
I was worried, but I appreciate people for paying attention and supporting us.
Being at the center of the Mister performance during the epic booty shaking, Nicole has captivated many, many fanboys with her flexible hips and sexy moves.
I was surprised that the netizens called me sexy to be honest. It's because I have no confidence in my appearance.
Maybe she's just being modest. If not, she might want to start reconsidering her lack of confidence, because her performances state otherwise, don't you agree?
Despite "Wanna" being their title track, "Mister" has garnered so much attention with its dance and upbeat tempo that even the girls weren't expecting it to become such a huge hit! Nicole concluded,
I'm happy that both songs received popularity. As double-hit is not an easy thing to achieve.
Right you are, Nicole. And if some of you people out there are still living under rocks and are not aware of this whole new booty trend, here's a compilation of all those lovely "Mister" performances to shed some light on what the netizens have been raving about! Enjoy the eyecandy!
cr. CodeMonmonSeason2