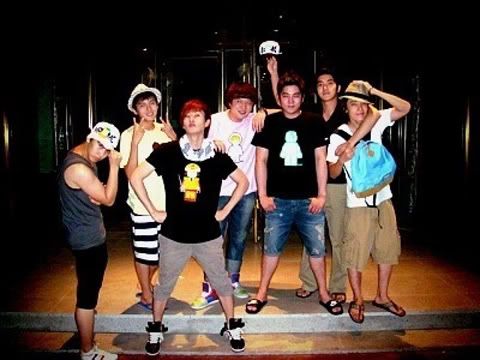 Well, some of them anyway.
It seems 10 out of the 13 members of Super Junior went on vacation together recently.
Kim Heechul
posted "
Pictures of me and the members on our trip to Kangwon
" and uploaded several pictures including
Eun Hyuk, Ki Bum, Kangin, Lee Teuk,
and six others, not including himself.
The most noteworthy thing about the pictures were that they dressed very comfortably in t-shirts, slippers and seemed just like any other ordinary guy. Heechul mentioned "
When we stopped at rest stops and talked, I heard people saying 'No way, is that Super Junior?' and was very amused. We had a great time playing games and having barbeques.
"
Kim Heechul also didn't fail to thank the fans for sending them the meat. Seems like fans are on a roll
with the gift giving
these days.